Category Archives:
Worship
Click here to view worship announcements
May God bless this backpack and the person who uses it.
KICK-OFF SUNDAY/BLESSING OF THE BACKPACKS
We will kick off our fall programming this year on Sunday, September 15. We'll plan a special meal and, perhaps, a special location. We'll also bless the backpacks of our students and teachers returning to school. If you'd like to help plan this special day, please see Pastor Peter or Laurie Bohlke.
NURSERY
We are in need of volunteers who will be available to tend to the nursery on Sundays when we have small children present. Children are always welcome to stay in worship, but nursery is a nice alternative for parents.
CHILDREN & YOUTH SUNDAY SCHOOL
SCRC offers three opportunities, starting September 15th, for children and youth to learn and grow:
PreK-2nd: Children In Worship w/ Jane Coles (leave during worship) – This is a kid-centered worship experience that takes place in our education building. The goal is to use wonder and play to introduce Bible stories to our youngest members.
3rd-5th: Sunday School w/ Julie TeWinkle (leave during worship) – This is a more traditional educational setting where students get to talk about how the Bible relates to their everyday lives.
6th & up: Inter-generational "Way to Live" Circles w/ Pastor Peter (TBD) – This is a new program that we'll be introducing. It is based on research by the Fuller Youth Institute that says youth benefit greatly from having five invested adults in their lives.
If you are able to volunteer to help Jane or Julie or would like to help Pastor Peter form circles, please speak with them.
ADULT SUNDAY SCHOOL
Pastor Peter has been receiving some inquiries about an adult Sunday School class following worship. Please leave your suggestions about topics or questions on the sheet in the back of the sanctuary.
The definition of God's will that we find in the New Testament is much more narrow than we might expect: use the gift that the Holy Spirit has chosen for you in order to build up the body of Christ in a reconciling love for the glory of God.
That's a mouthful for sure! Listen to "The Wisdom of God's Will" to hear how even good things like work and family can get in the way.
The question asked this past Sunday was "Who is Melchizedek?" and "Why does he matter?" We know very little about him, but his name means "king of righteousness." He was the king of Salem or the "king of peace." He offers us some insight into finding the right path to peace in our own lives. Listen to "The Right Path to Peace" to learn more.
The question from this previous Sunday was "is Jesus the only way?" In the sermon Pastor Peter talks about why it's a difficult question to answer. There are a lot of how's and what if's. Whatever the answer is, it ought to give us some assurance rather than anxiety. Is that answer good enough?
Listen to The Amazing gRace and decide for yourself.
We're continuing our conversation about the ways that we imagine God and the ways that we image God. In other words, the ways we think and feel about God have an effect on how we try to imitate God in the ways we live. For the next two weeks, we'll focus on Jesus' death.
You can download a copy of Why Did Jesus Die?
Or you can read Part 1 and Part 2 on Medium.
We'll meet this Sunday at 11am to discuss.
The Word of God is referred to as a two-edged sword. John imagines Jesus returning with a double-edged sword coming from his mouth. "The Word Became Sword" answers the question about why people use the Bible to do harm and reminds us that, while the Word will cause conflict, it is not meant for abuse.
This Sunday at 11am, we'll gather for week 4 of our conversation about restoring God's image.
Here's the journey we've been on so far:
1.) Too often powerful & influential people use the word "God" to justify their control and cruelty. This is how "God" becomes a problem.
2.) But God is "merciful and gracious, slow to anger, and abounding in steadfast love."
3.) God does not demand a transaction involving an innocent death. The ritual sacrifices were a sign and seal of a rededicated life.
4.) The prophets proved the point by teaching that the sacrifices of God's people didn't matter and weren't even welcomed if they didn't lead to a more just way of life.
All of this is to say, that Jesus' death was not a transaction that appeased a cruel and controlling God with an innocent death. So, if that's true. Why did God send Jesus? Read The Devil Made Me Do It for an answer.
You can also read The Devil Made Me Do It in Part 1 and Part 2 on Medium.
Join the conversation on Sunday at 11am.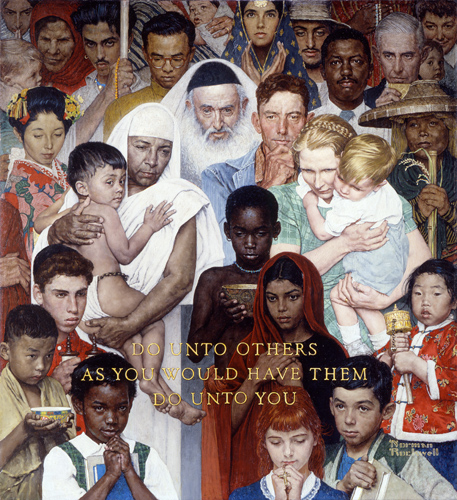 The question from this last Sunday was "how do we see people the way that God sees them?" Listen to "Images, Idols, & Icons" for an answer.
Prophets stand in the gap. What that means is, prophets stand in between two people or groups of people and help them hear and see one another. They form a sort of bridge. In the Bible, prophets stand in between God and God's people. They speak on behalf of God to the people and sometimes they speak on behalf of the people to God. There are also times when prophets stand in the gap between people of privilege and people who are oppressed. They can speak words of challenge just as easily as they can comfort. Because prophets often stand in the gap, they often stand apart and they often stand alone. They can be pesky.
We'll be reading about the prophets for week 3 of our discussion on Restoring God's Image. Download it here.
You can also read online read Part 1 and Part 2 of this chapter online at Medium.